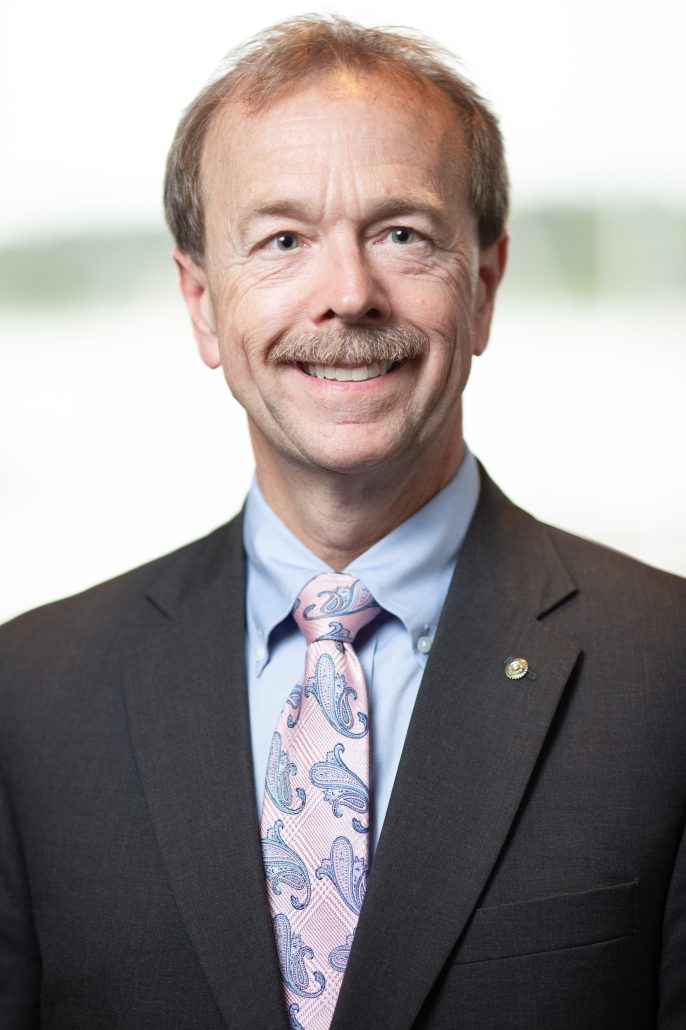 Ralph L. Howell, Jr., DDS, MAGD
Dr. Ralph L. Howell, Jr. grew up in the Suffolk community. In 1982, he received his Bachelor of Science degree in chemistry from the College of William and Mary. He then went on to earn his Doctor of Dental Surgery degree from the Medical College of Virginia in 1989, where he graduated with honors and was a member of the distinguished national dental honor society Omicron Kappa Upsilon. Dr. Howell was also recognized with the Medical College of Virginia's A.D. Williams Scholarship Award.
Recognizing that dentistry is constantly advancing and evolving, Dr. Howell attends many continuing education courses and maintains knowledge considered on the cutting edge of dentistry.  In line with his high regard for continuing education, Dr. Howell earned his Masters from the Academy of General Dentistry in 2012.  The Master's is the highest achievement within the AGD and is awarded to AGD Fellows who have completed over 1100 hours of Continuing Education. Following the completion of his implant training, Dr. Howell was awarded a Fellowship in the International Congress of Implantologists in December 2012.
Dr. Ralph Howell is an active member of the community, as well as organized dentistry. He is a past President of the Virginia Dental Association. He currently represents the Virginia Dental Association as a delegate to the American Dental Association.  Dr. Howell serves the ADA on the Council on Communications and on the Appeal Board of the Commission for Continuing Education Provider Recognition. In December 2011, Dr. Howell was appointed to serve on the Virginia Healthcare Foundation's Board of Directors. From 2015-2017, Dr. Howell served as the Healthcare Foundation's chair. As the Chair of the Lake Prince Woods Advisory Committee, he is acts as a member on the Executive Board of United Church Homes and Services. Dr. Howell serves on the Colonial Virginia Council Executive Board for the Boy Scouts of America and has served as the medical officer for three national Boy Scout jamborees at Fort A.P. Hill. He is a past president of the Suffolk Rotary Club, and as an active member of Oakland Christian Church, where he served as the Chairman of the church's board of trustees.
Dr. Howell has been honored as the Western Tidewater Free Clinic's Volunteer of the Year, Richard F. Simmons Memorial Award by the Tidewater Dental Association, and the Leadership Award by the Virginia Dental Association.
Dr. Howell has been married to his wife, Tammy, for over 30 years.  His daughters, Lauren and Danielle, have followed in his footsteps in the Boy Scouts of America and Dentistry, respectively.  Dr. Howell enjoys spending time with his grandson, Gavin, photography, boating, and skiing.
Professional Memberships and Affiliations
American Dental Association
American Academy of Cosmetic Dentistry
American College of Dentists
Virginia Dental Association
Tidewater Dental Association
Academy of General Dentistry
Delta Sigma Delta
Portsmouth-Suffolk Study Club
Seaboard Study Club
Sentara Obici Hospital Medical Staff
Pierre Fauchard Academy
International College of Dentists
American Institute of Parliamentarians
Virginia Dental Association Foundation
Virginia Health Care Foundation
International Congress of Oral Implantologists