Pediatric Dentistry
---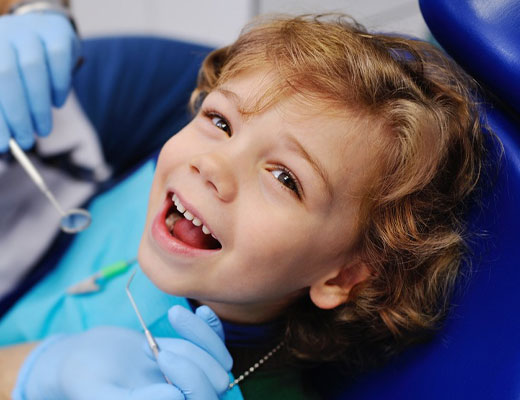 As a parent, it's essential to prioritize your child's oral health. Children's teeth are susceptible to decay and damage, and without proper care, they may develop cavities and other dental problems that can have long-term effects on their health. This post will explore the importance of pediatric dentistry and how to care for your child's dental needs.
The adept team at Howell Dentistry of Suffolk, VA, is proud to serve the local community with premium dental services so that children can start enjoying their trip to the dentist.
What is Pediatric Dentistry?
Pediatric dentistry is a specialized field that focuses on children's oral health from infancy through adolescence. Pediatric dentists are trained to address the unique needs of children's teeth, gums, and mouths, and they work to promote good oral hygiene habits that will last a lifetime.
When to Start Taking Your Child to the Dentist
It's recommended that children begin seeing a dentist by their first birthday or as soon as their first tooth appears. Regular dental visits can help prevent and identify dental problems early on before they become more severe.
The Importance of Baby Teeth
Some parents may think that baby teeth are less important than permanent ones since they will eventually fall out. However, baby teeth are crucial to a child's oral health and development. They help children chew and speak properly and guide the permanent teeth into the correct position. Additionally, baby teeth can be more susceptible to cavities and decay than permanent teeth, and untreated dental problems can lead to pain, infections, and more severe health issues.
Tips for Promoting Good Oral Health in Children
Here are some tips to help promote good oral health in your child:
Start Early
As mentioned earlier, it's essential to start taking your child to the dentist early on and establish good oral hygiene habits from an early age.
Brushing and Flossing
Please encourage your child to brush their teeth twice daily with fluoride toothpaste and floss daily to remove plaque and food particles.
Healthy Diet
A healthy diet low in sugar and high in fruits and vegetables can help promote good oral health.
Dental Sealants
Dental sealants are a protective coating applied to the back teeth to prevent decay and cavities.
Regular Dental Checkups:
Regular dental checkups can help prevent and identify dental problems early on before they become more severe.
Orthodontic Treatment:
Orthodontic treatment may be necessary if your child's teeth are misaligned or have a bite problem.
Choosing a Pediatric Dentist
When choosing a pediatric dentist for your child, it's essential to look for someone who is experienced and has a friendly, welcoming demeanor. A good pediatric dentist will take the time to make your child feel comfortable and at ease during their dental visits.
Your Trusted Dental Care Team
Pediatric dentistry is a critical component of your child's oral health care. Regular visits to a pediatric dentist can help prevent dental problems and ensure that your child's teeth and gums remain healthy. Following proper oral hygiene habits and scheduling routine dental checkups can help your child develop good dental habits that will benefit them for a lifetime.
During your appointment with the professional team at Howell Dentistry of Suffolk, VA, you can be sure you receive the proper care and guidance you and your family deserve.